Emmanuel Battesti – Ecault
Every day in summer as well as winter, Emmanuel Battesti scours beaches from Berck to Calais in search of driftwood for his artistic creations: lamps, mirrors, clocks, coffee tables etc. So if anyone knows the coast, he does!
"I end up in places nobody ever goes to, so I said to myself that it would be great for people to visit these undiscovered beaches and cliffs via the little- known and rarely used tracks between Calais and Berck."
His favourite places? "I really love La Crevasse in Equihen. It's a beautiful path that leads to the Fort d'Alprech, but you need to know how to walk on the rocks" For those without an innate sense of balance, head to the beach at Ecault, another section of coast that Emmanuel particularly enjoys. "There you can make out the wreck of a steam-powered tug from 1930 which appears or disappears in the sand depending on the tides."
One of the hobbies of this new dad is to find mysterious rocks. "I particularly like those with animal shapes or human faces, and know where a number are located. Of course it's a bit like looking at clouds – you have to use your imagination! Once you get into it, however, you can see them everywhere."
Another of his passions is photography. Emmanuel puts on frequent photographic exhibitions featuring landscapes as well as shots of monuments taken at night. You need patience, but this is not something lacking in this determined hiker. "I've taken photos of the beach in the snow, a seal, and flint, the colour of which changes depending on the light." Hiking and photography enthusiasts are in good hands.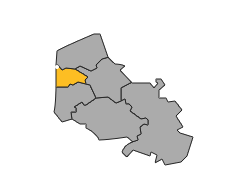 Meet him !
I want to contact : Emmanuel Battesti